Nouvelle Constitution adoptée, quinze (15) candidats disputeront la présidence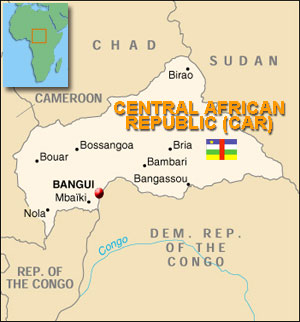 Bangui, 29 Dec 2004, Nations (IRIN)- La grande majorité des électeurs en République Centrafricaine ont approuvé une nouvelle constitution lors d'un référendum tenu le 5 décembre dernier, a annoncé dimanche M. Jean Wilibiro-Sacko, le président du comité électoral mixte indépendant.
Il a dit que 90,4 pour cent des électeurs ont voté en faveur de l'adoption d'une nouvelle constitution, contre 9,6 pour cent qui ont voté en défaveur.
Le président de la république, le général François Bozize, a fixé la date des élections parlementaires et présidentielles pour le 13 février 2005. Selon le comité électoral, 15 candidats ont déjà déclaré qu'ils comptaient disputer la présidence.
Les candidats incluent, entre autres, l'actuel président François Bozize et deux anciens présidents, André Kolingba et Ange-Félix Patassé.
CENTRAL AFRICAN REPUBLIC: New constitution adopted, 15 to vie for presidency
BANGUI, 20 Dec 2004 (IRIN) - An overwhelming majority of voters in the Central African Republic (CAR) approved a new constitution at a referendum held on 5 December, an official of the country's electoral commission announced on Sunday.

Jean Wilibiro-Sacko, the chairman of the Mixed Independent Electoral Commission, or CEMI, said 90.4 percent of the voters favoured the adoption of the new constitution, while 9.6 percent were against it. Voter participation was 77.43 percent, he added.

"We were expecting such a result, since all political parties supported the draft constitution and called on their supporters to vote for it," Wilibiro-Sacko told IRIN on Sunday.

The referendum was conducted across the country despite several organisational problems, which included delayed openings of some polling centres, the omission of names from voters' lists and confusion over the duration of the voting. Many voters said they had not known that the polling would last only 10 hours, and they blamed this on insufficient sensitisation by electoral officials.

The new constitution is similar to that of 1995, which CAR leader Gen Francois Bozize suspended when he seized power in a coup on 15 March 2003. It provides for a five-year presidential term, renewable only once, and the appointment of the prime minister from the political party with a parliamentary majority.

Bozize has set parliamentary and presidential elections for 13 February 2005.

Already, 15 candidates have declared interest in contesting the presidency, according to the electoral commission. The commission closed the registration of presidential candidates on Thursday.

Candidates include Bozize and former presidents André Kolingba of the Rassemblement democratique Centrafricain and Ange-Felix Patasse of Mouvement de liberation du peuple Centrafricain, whom Bozize ousted.

At 78-years old, Vice-President Abel Goumba is the oldest of the candidates. Goumba ran for president in 1993 and in 1999.

The contenders also include former prime ministers Martin Ziguele and Jean-Paul Ngoupande, Charles Massi, Auguste Boukanga Olivier Gabirault, former mayor of Bangui and Jean-Jacques Demafouth, former minister of defence. Fidele Ngouadjika, the sales manager of SOCATEL, the country's telephone company, Henri Pouzere, a lawyer living in Gabon, and Josué Binoua, a pastor, have declared their interest in running as independent candidates.

Enoch Derant-Lakoue, former prime minister and currently director of the Banque des Etats de l'Afrique Centrale - the central bank of central African states - and former Bangui mayor Joseph Bendounga are also in contention for the CAR's top political seat.

According to the electoral commission, the transitional constitutional court is due to examine and publish a definitive list of presidential candidates.
Actualité Centrafrique de sangonet - spéciale élections 2005